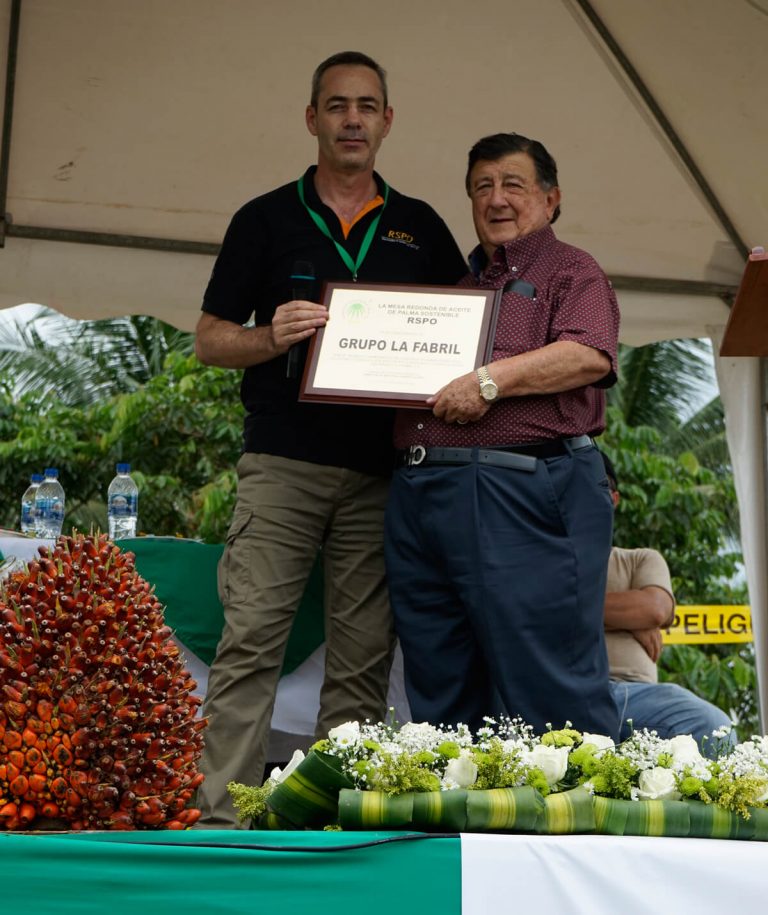 GRUPO LA FABRIL RECEIVES INTERNATIONAL CERTIFICATION FOR ITS SUSTAINABLE PRODUCTION OF PALM OIL
December 21, 2018
GRUPO LA FABRIL RECEIVES INTERNATIONAL CERTIFICATION FOR ITS SUSTAINABLE PRODUCTION OF PALM OIL
The RSPO Roundtable on Sustainable Palm Oil certification (Round Table on Sustainable Palm Oil) guarantees the sustainability of the product
The RSPO Roundtable on Sustainable Palm Oil certification (Round Table on Sustainable Palm Oil) guarantees the sustainability of the product
Esmeraldas, December 19, 2018 As a result of its commitment to responsible production, innovative agricultural practices, as well as its respect for the environment and the communities, Grupo La Fabril received the international certification RSPO on the Energy & Palma plantation and extraction plant in Esmeraldas, its Palm Kernel extracting plant in Santo Domingo (Tysai S.A.), and the Industrial Complex La Fabril in Montecristi.
The Roundtable on Sustainable Palm Oil is a non-profit organization that brings together palm oil producers, processors or merchandisers, manufacturers of consumer goods, retailers, banks, investors and environmental and social NGOs to develop and implement global standards on the production of sustainable palm oil.
Grupo La Fabril has an important RSPO track record, as it is one of the first Ecuadorian agro-industrial groups to be part of this world organization. In order to guarantee the sustainability of palm oil, all RSPO members that take ownership and produce or handle palm oil products must have this accreditation.
At this time, Grupo la Fabril has 13736 88 certified hectares, including preserved forests and palm oil plantations. It is also estimated that by 2019, over 8 thousand tons of palm oil and more than 1054 tons of palm kernel oil will also be certified. These amounts will increase annually, and by 2013, it will have over 30 000 MT of certified oil in self-owned plantations.
"This certificate also recognizes the work of the close to one thousand employees that work in this plantation, thus constituting one of the plantations with the largest workforce in the country. Their talent, effort and sense of responsibility are fundamental for our work," affirms Flavio Paredes, General Manager of Energy Palma.
Engineer Francisco Naranjo, RSPO Director for Latin America, delivered this certification after the Company complied with all corresponding requisites, which were verified by a certification audit conducted in October 2018 by the Brazil certification company IBD.