"La Fabril, , is an Ecuadorian company founded in 1935 that began its operations in 1968 under the leadership of Carlos González-Artigas Díaz, who together with a great team and hard work, has built an innovative industry that has become a strategic partner in the growth of the country by leading in the production of vegetable shortenings, oils, oleo-chemicals, bio-fuel, and cleaning and personal care products in the national and international markets."
As part of its philosophy of innovation and environmental care, La Fabril focuses on a system of sustainable management through the efficient use and reuse of its raw materials, the incorporation of clean processes and technologies with a view to minimizing the impact of its operations in its areas of influence.
With a wide variety of products and brands in the local market, La Fabril has achieved establishing itself as an icon in research and innovation in the Ecuadorian food market going back several decades.
This is why, and by virtue of being known as the "Industry of Ideas" within the area of Innovation and Development at La Fabril, we work responsibly in making a reality the ideas that create value in our clients' businesses that ultimately connect with our consumers.
To be innovative implies responding to market changes; being smart in our adaptation, foreseeing demand, offering new products and redesigning those that already exist. In addition, innovation represents the capacity and dedication to identify the needs of the consumer and to successfully satisfy them.
La Fabril is fully committed with R&D in order to fulfill the needs and expectations of its industrial clients and end consumers; therefore, it has made significant investments that allow it to be at the forefront of technology and is operated by a vast team of engineers trained in Ecuador and abroad.
Throughout its history, La Fabril has been known for providing premium quality products to the markets, all within the reach of consumers.
In 2002, La Fabril acquired La Favorita, a vegetable oil and shortening-producing plant that belonged to the multinational company Unilever. This acquisition included all of its brands thus making La Fabril the largest company in the nutritional oil and shortening sector in Ecuador.
La Fabril S.A. is a pioneer in Latin America in fractionation of palm kernel oil in order to create CBS. In addition, it is a pioneer in the use of sublimation technology. This entails an innovation that allows preserving the beneficial compounds of natural oils and eliminating trans fatty acids.
Innovative companies are known for having the capacity to develop ideas and implementing improvements in order to differentiate products and processes that make up a successful entrepreneurial practice.
This is why La Fabril, starting in the 90s, created a R&D facility for Oils and Fats, which allowed the 'Industry of Ideas' to acquire a competitive advantage in domestic and international markets.
In order to develop custom-made products for our clients, our Company has also implemented an area where each machine is designed to scale; this is where the first trials of products requested by our clients are produced.
Before going to market, all products are tested in every manner, going from their taste and smell, up to the final presentation the consumer will see, and always considering the wishes and needs of our consumers.
The quality, technology and human talent present at La Fabril has allowed it to achieve many certifications that permit placing its products in domestic and international markets.
ISO 9001
BPM
ISO 14001
BASC
Furthermore, it is also one of the main companies that promote sustainability in the production of palm oil.
We think about our end consumer and this is the reason why we work every day for you with the purpose of aligning ourselves to the highest standards in quality, which is the philosophy that has allowed us to successfully enter international markets with outstanding clients who have placed their trust in the quality of our products.
Committed with constant innovation and compliance, We are forever and ever: La Fabril, "The Industry of Ideas"


At La Fabril, we live the commitment of maintaining our leadership based on
Responsibility, Respect, and Honesty.


LA FRABIL TODAY
La Fabril has gained its standing as a good corporate citizen by offering quality products, generating employment, respecting the environment, and establishing good relationships with its constituencies, all of which serve to position it as a strategic partner in the development of Ecuador.


INNOVATION
La Fabril is a regional leader in the production of shortenings and oils, and of cleaning and personal care products. It also produces raw materials for bread and pastry baking, confectionary products, ice cream products and frostings, chocolate substitutes, oils for frying, preserves and paints, and in addition, biofuels.


CERTIFICATIONS
The Industry of Ideas has obtained many certifications that allow it to place its products in national and international markets.


CORPORATE COMMITMENT
La Fabril is one of the largest employers in the country with over 2,000 employees that make the Industry of Ideas, the flagship company of the new Ecuadorian industry.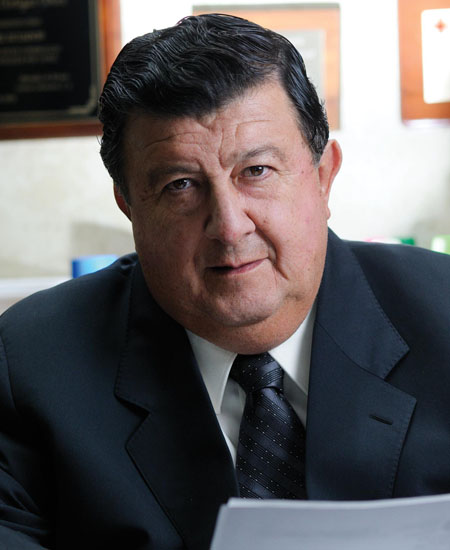 OUR FOUNDER
Carlos Esteban González-Artigas Díaz is a man that does not believe in weakness. His greatest strength has been his dedication and always being positive and optimistic in the development of every one of his business activities.
Carlos E. González Artigas Díaz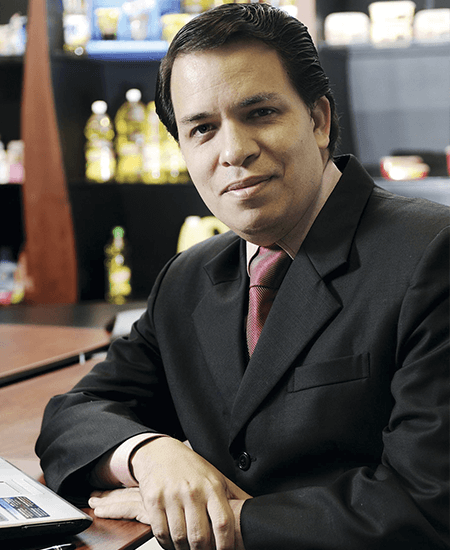 LEGAL REPRESENTATIVE
His vision of innovation, quality and compliance has made La Fabril one of the 20 most important companies in Ecuador, making it an example of responsible growth as well as an attractive company for all professionals in the region to work for.
Carlos E. González Artigas Loor