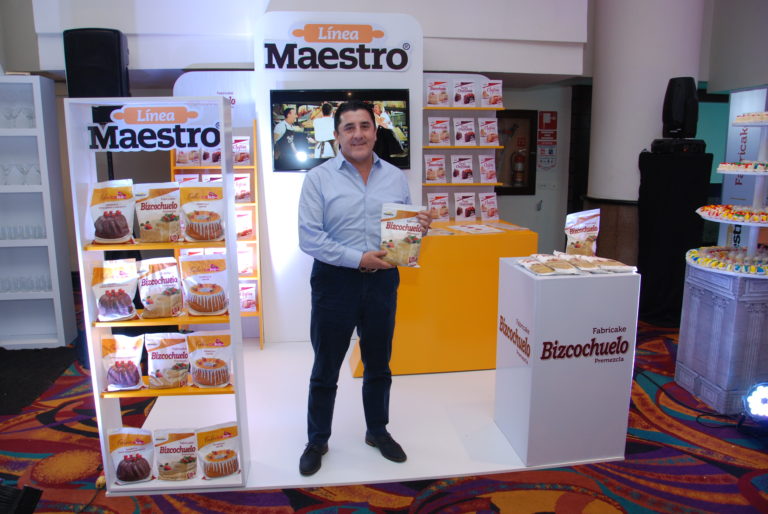 La Fabril presents new product for ecuadorian bakers
August 7, 2018
La Fabril presents new product for ecuadorian bakers | La Fabril
Bakers in the country meet in Guayaquil/Quito to learn of the new product La Fabril and its division Línea Maestro (Master Line) launch into the market.
Fabricake Bizcochuelo, another innovation that allows bakers prepare delicious recipes in a rapid, simple, and cost-effective manner.
963 bakers in the country were trained so far this year by the Línea Maestro in its aim to contribute to their growth and professionalization.
800 bakers from various zones in the country participated in the presentation of the new product launched into the market by La Fabril and its division Línea Maestro (Master Line). This new product is offered to the bread-making and bakery sectors in Ecuador.
Fabricake Bizcochuelo, a balanced formula containing carefully chosen ingredients, allows obtaining light and spongy cakes with an excellent crumb, flavor and aroma.
This product will help bakers save time and prepare better quality recipes, such as Swiss rolls, cakes with fruit fillings, and the famous Three-Milks dessert.
Fabricake Bizcochuelo joins Fabricake, Fabricrema Pastelera, Coberchoc, Margarina Marva, Fabripan Nucleo for Croissants and other products of the Línea Maestro that throughout more than 20 years have been developed to help small and medium size bakers innovate with new bread and cake types in a rapid, simple and cost-effective manner.
The launching of the new product was made in Quito and Guayaquil where bakers were able to learn of its benefits. Attendees also received information on the nationwide training program and of other actions pursued by the Línea Maestro.
At present it is estimated close to nine thousand bakeries operate in the country, many of which work in an empiric manner.
La Fabril organizes workshops and technical talks to help bakers optimize their resources and staples and for them to learn to handle their costs and sell their products.
So far, over 70 training sessions have been conducted nationwide in cities like Guayaquil, Quito, Ambato, Manta, Ibarra, Santo Domingo, and others. In 2018 some 963 bakers have attended these training workshops.