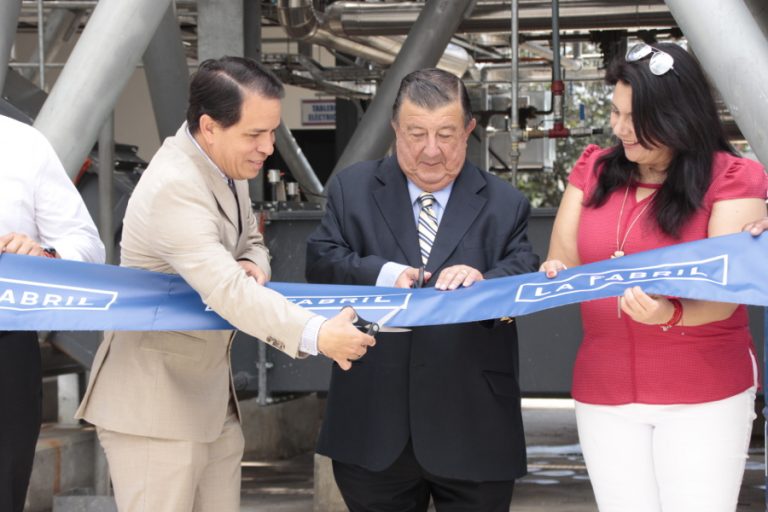 LA FABRIL PUTS INTO OPERATION NEW RENEWABLE ENERGY SYSTEM
March 15, 2019
LA FABRIL PUTS INTO OPERATION NEW RENEWABLE ENERGY SYSTEM
The project will save the Ecuadorian State six million dollars
La Fabril S.A, this Friday, March 8th, inaugurated a new boiler that uses renewable energy as part of its Project "Biomass Steam Generation System," that from the environmental standpoint, is an increasingly common practice of international industries.
Vice minister of the Environment, Carolina Zurita, attended this event together with the Technical Secretary for the Reconstruction, José Herrera, the mayor of Montecristi, Richard Quijije, and special guests that witnessed the operationalization of this plant that demanded investments of close to $10 million.
This new boiler replaces diesel as fuel to generate industrial steam, a byproduct of the extraction of red palm oil, which brings significant environmental advantages:
• It contributes to a better use of a byproduct that at this time was not in use.
• Biomass energy does not have an impact on climate change.
• It contributes to forest cleaning.
• It contributes to the sustainability of the company's production processes.
During the event, Carlos González Artigas Loor, general manager of La Fabril, affirmed: "this is a boiler representing the technology and equipment that includes state-of-the-art elements for steam combustion and production drawn from plant biomass. The boiler was built by VINCKE, a Belgian company and world leader in the construction of this type of boilers."
At present, La Fabril processes around 530 thousand tons of palm fruit, equivalent to over 130 thousand tons of biomass, from which 30 thousand tons correspond to palm kernel hard seeds to be used as the primary source of energy for this boiler.
Percival Andrade, director of Innovation at La Fabril, affirmed, "this is far-reaching step for the Ecuadorian industry. High pressure steam generated by this boiler will be used for refining and warming processes, as well as for multiple production processes in our industry, which in financial terms, will reduce the number of processing boilers and will represent considerable savings over the cost to purchase fossil fuels like diesel or bunker."