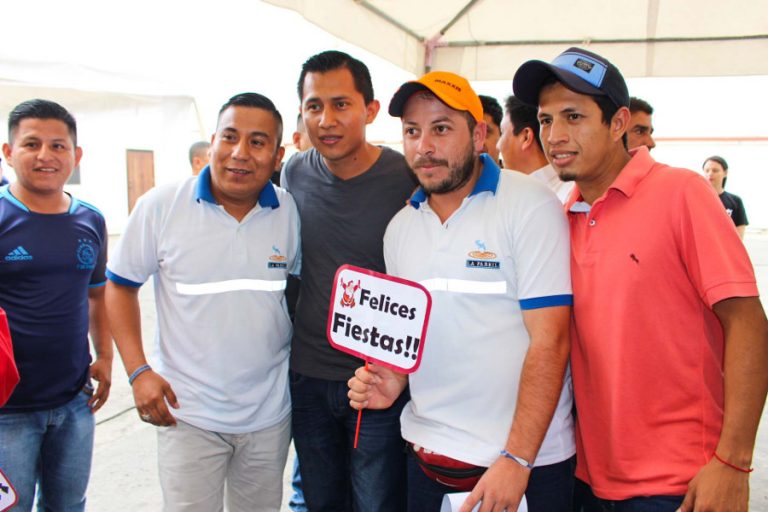 LA FABRIL REPORTED ON ITS PERFORMANCE BEFORE ITS EMPLOYEES
December 28, 2018
LA FABRIL REPORTED ON ITS PERFORMANCE BEFORE ITS EMPLOYEES
In order to share with its personnel information on its management, performance and the Company's vision for 2019, before its one thousand employees, La Fabril presented a management report at the Industrial Complex in Montecristi, Manabí.
Among the Company's main achievements in 2018 is the acquisition of Otelo & Fabell by Grupo La Fabril, which allowed widening the Company's product catalogue, making La Fabril a more attractive option for clients, suppliers, and consumers.
Furthermore, in 2018, La Fabril developed over 100 projects under the precepts of innovation, resource optimization, human capital care, and environmental protection. The implementation of some of these projects has allowed reducing steam and energy consumption, as well as the utilization of certain materials by making full use of them, apart from increasing revenues for the selling of sub-products and stocks at storage centers in 16%, in addition to a 14% reduction of hazardous waste and a 13% decrease of common waste.
Carlos González-Artigas Loor, General Proxy of La Fabril, during the event reported it will "soon be possible to replace diesel as the fuel for the generation of industrial steam with a sub-product resulting from the extraction of red palm oil, which will allow La Fabril to set an example by using a natural resource that will allow an efficient use of energy in our processes."
He also highlighted that the performance of all of La Fabril's workers has enabled the Company to receive the re-certification of its Industrial Complex in Montecristi by the System Management and Security Control BASC, which was also successfully implemented at La Favorita Plant in Guayaquil.
Awards and Recognitions
2018 was an outstanding year for the Company:
BASC Award in the category of 2018 best exporter of mass consumption sales.
The great Ekos de Oro, as the most efficient company in the oils and fats extraction and production sector.
Second place for La Favorita oil, in the top 5 of the 2018 most-remembered national brands in the products category.
La Fabril was the most recognized company as the country's second most effective advertiser, and received a Silver Effie in the Hygiene and Personal Care category, for its campaign "Bocas de verdad" of the Polar Toothpaste brand.
Fedexpor granted La Fabril the first-place award in the category of Great Exporting Company (non-traditional sector), at the Ninth Edition of the PremiosXpor 2018.