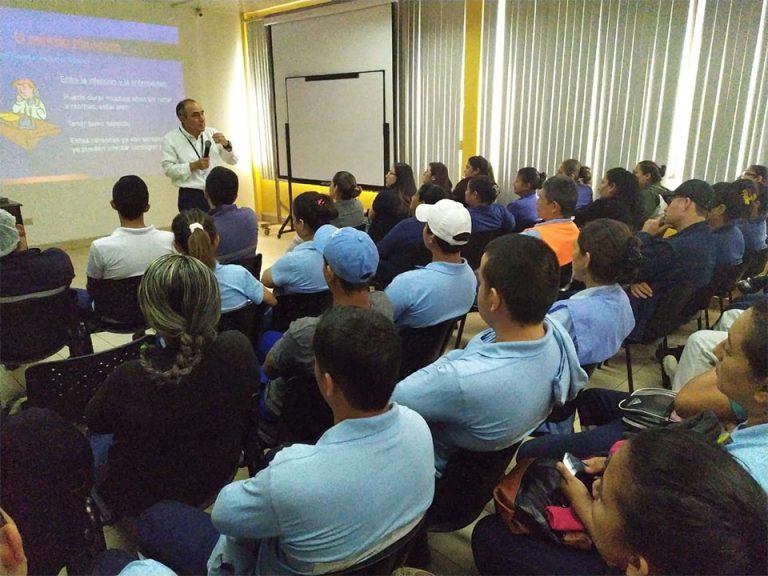 La Fabril Staff received a talk by Dr. Marco Albuja
September 4, 2019
La Fabril Staff received a talk by Dr. Marco Albuja
An important group of La Fabril's employees at the Montecristi complex in Manabí, participated in a talk on reproductive health and sexually transmitted diseases, given by Dr. Marco Albuja, prominent physician, specialized on preventive and healing medicine, and sexual and reproductive health of the Program "Towards a new life-style."
Several topics, which in daily life may seem unimportant, but are truly worthwhile addressing, for they may leave indelible marks both in the individuals affected and in their families if the necessary precautions are not taken, were discussed during an entertaining, direct, and educational conference.
Dr. Albuja affirmed this type of dialogue goes well beyond prevention. "The topics discussed are very important, not only in reference to prevention, but most of all over the importance they have to provide peace of mind to the families behind each individual."
Attendees were pleased and took advantage of the opportunity to make questions over general health topics. "It has really been a master conference, not only regarding prevention; it's really food for thought," affirmed one of the employees.
This activity is part of the psychosocial risk program promoted by the Company through the Management of Organizational Development, in charge of caring and promoting actions for the wellbeing of all its workers, and in compliance with policies and requisites demanded by the Ministry of Public Health and the Labor Ministry.