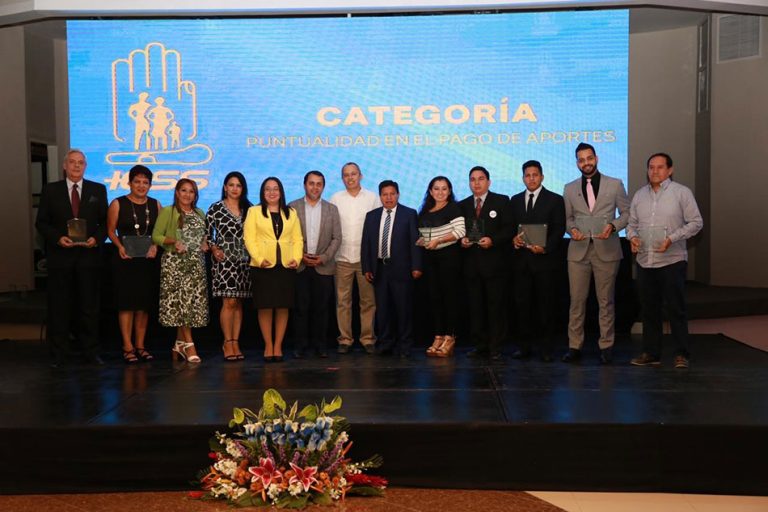 Social Security Institute recognizes good corporate practices of companies in the Ecuadorian coast region
August 19, 2019
Social Security Institute recognizes good corporate practices of companies in the Ecuadorian coast region
The Ecuador Social Security Institute (IESS) on Thursday, August 15 this year organized the special 2019 ceremony to Acknowledge Good Corporate Practices in the Coastal Region. Over 150 people from different corporations attended the meeting in Manta. The goal of this special event was to reward the contribution of public and private organizations to the Social Security System by the generation of jobs and their compliance with institutional laws and regulations.
The following IESS officials attended the ceremony: Paúl Granda López, president of the Governing Board; Felipe Pezo, employees representative; Ángel Loja, General Director; Carlos Torres, National Registration and Coverage Director; Patricio Camino, Labor Risk National Director; and María Luisa Moreno, Manabí Provincial Director.
During his speech, Felipe Pezo reported these acknowledgments seek to highlight and promote good corporate practices that generate the best working conditions, which include all benefits granted by the Social Security System. "We are the strategic partners of entrepreneurs: we are here to recognize your effort," he highlighted.
Paúl Granda López stressed this event emphasizes the much needed connection between the Social Security System and corporations. He stressed the importance of an effective compliance with regulations that will ensure the future sustainability of the system. "These acknowledgements aim at showing the new face of the Social Security System supporting businesses; we want to be your strategic partner for the development of your entrepreneurial activities," he added.
Over 700 companies applied to participate in the three categories established. The assessment methodology to determine the ranking of these companies was of a technical nature; it gathered criteria and weightings so that the selection and awarding in the existing categories would be strictly objective.
Guillermo Baraldo, representative of La Fabril, highlighted the importance and requirement of all employers to keep up with their obligations with the Social Security System, for this will guarantee access to the services provided by the IESS. "Thanks to these good corporate practices the families of our employees are protected. This acknowledgment is further reason to keep working for them," he added.