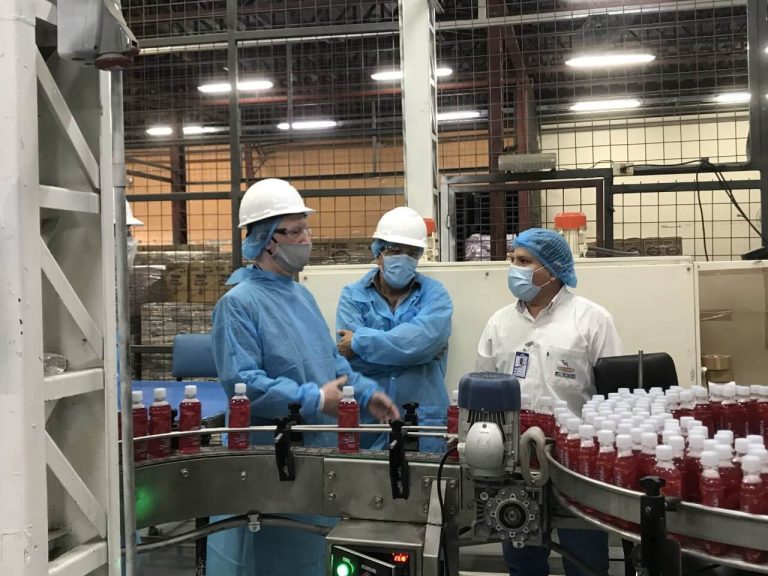 U.S. AMBASSADOR VISITED LA FABRIL
June 22, 2020
U.S. ambassador, Michael J. Fitzpatrick visited the plant of La Fabril S.A., as part of his agenda in Manta.
· During his visit, La Fabril's officials reported on current bio-security measures established by the Company facing the COVID-10 pandemic.
Montecristi, June 17, 2020 – As part of his protocol agenda, U.S. Ambassador to Ecuador, Michael J. Fitzpatrick, this Tuesday, June 16th, toured the plant of La Fabril S.A. The visit is part of the activities of the U.S. diplomat's trip to Manta, which started this Monday.
Engineer Carlos González-Artigas Loor, La Fabril's General Manager, together with a small delegation, received the Ambassador and his staff. During the tour through the industrial plant, the executives reported on healthcare and security protocols implemented by the company, aimed at protecting all its employees to continue delivering high-quality, value-added and affordable products to all Ecuadorian households.
"La Fabril believes cooperation between the public and private sectors are indispensable for the country's development and progress; consequently, the visit of national and international authorities is extremely motivating and a sign that we are looking ahead," affirmed Carlos González.
The agenda of the U.S. ambassador in Manta included meetings with local authorities and the delivery of safety equipment and supplies for health centers in the city.